I wrote just the other day about my panic/gallbladder attack that made me have a really bad hour in what was otherwise a relatively good day. That wasn't so bad. But this past Sunday, I just had a bad day. And instead of trying to feel better (and in turn then feeling worse because it wasn't getting better), I just let the bad day play out.
The bad day actually starting with my sleep. I had a horrible night sleeping. It was a combination of the heat and having some heartburn issues (those are rare) so I kept waking up and staying awake for a long time. Over the course of the night, I think I got about 4 hours of sleep. I usually need between 6-7 to feel rested.
Not only did I have a bad night sleeping, I overslept because I was so tired in the morning that I didn't hear my multiple alarms going off (or I managed to turn them off in my sleep). I ended up oversleeping about 3 hours so the start of my day ended up being rushed.
If I wasn't rushing around enough that morning, I had a major delay with my first chore I was trying to get done. I have laundry on-site where I live. We have one washer and one dryer and while they do break down from time to time, it's usually pretty obvious when they aren't working (like they don't turn on). I did my load of laundry and when I got it out of the dryer, the dryer had been turning but there was no heat or warmth. So my clothes were just slightly less wet but they were still cold and wet.
I wasn't going to waste more money in a broken dryer so I put a note on it for my neighbors to see and threw all my wet clothes in my car and drove to a laundromat that is in a strip mall near my house.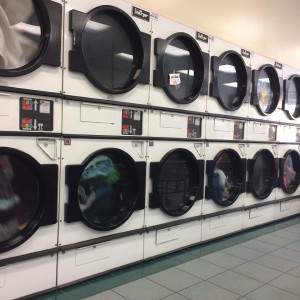 I paid again to dry my clothes but instead of being able to do other things while my clothes dried, I was stuck there watching. I did have a book with me so I did read. But I felt like my time was almost wasted.
The reason I was rushing around so much was because I had to work that evening. I got my clothes dried and dressed into work clothes in time to drive to work. I was prepared for another long shift so I had my book and was looking forward to getting paid for reading (the best thing ever!).
Only to find out that my shift was going to be less than 4 hours instead of 6 hours like I thought it would be. Yes, it was good I wouldn't have to be there as late. But I really could have used the extra money and if I had known I would be done so early I might have tried to make some plans for the evening.
Then toward the end of my work shift, I felt my necklace slide down my neck. I caught it only to discover that the chain had broken toward the middle.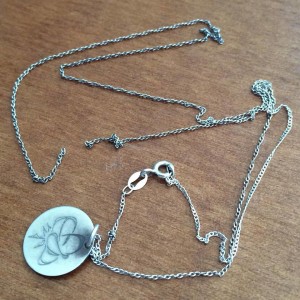 I couldn't find a broken link (I'm now thinking that maybe one link totally broke and fell to the floor) and there was no way to put it back on. So I put the chain and the charm in my wallet and continued on with my work shift (although my neck felt naked from then on).
After my shift ended, I went home to end my day. Honestly, this day kind of stunk for me from beginning to end. I know I try to always think positively, but sometimes you just have to realize that you are going to have to suffer through the day and hope that the next day is better (it was). I still tried to get things done even though I felt like the world was against me. And while it wasn't my most productive day, I still did what I needed to do. I just didn't get everything done.
I hate having a bad day and not being able to reduce it to a bad hour or bad morning. But I have to know those days do pass and it will be back to normal happy days quickly.