I've been invited to another cookie party (it's actually tonight) and I wanted to try something new this year to bring to it. I loved making the red velvet white chocolate cookies last year, and even though this party is with a different group of people, I wanted to expand my cookie making abilities.
I went through the family cookbook that my mom and I put together (and presented to my entire extended family at Thanksgiving last year) and found a recipe for meringues. I love meringues! But I made a few changes to the recipe to make them a bit more festival.
Below is the full recipe. I only made a half batch because the first batch I made came out wrong (there might have been a bit of yolk or oil and the egg whites didn't stiffen). When I went to make a second batch, I realized I only had 2 eggs left.
What you need: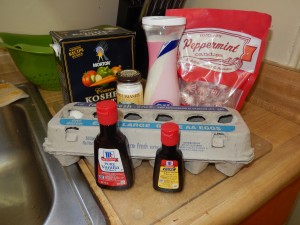 4 large egg whites (room temperature)
1/2 tsp Cream of Tartar
1/4 tsp salt
1 cup sugar (extra-fine is best)
1 1/2 tsp vanilla extract
1/2 tsp peppermint extract
peppermint candies
What to do:
Separate eggs (doing this while they are cold is easiest) and allow them to come to room temperature (30 minutes).
Preheat oven to 250.
Unwrap peppermint candies and place in a zip top bag.
Using a rolling pin or mallet (thanks again Dad for the mallet!) crush the peppermint candies. Make the pieces as big or as small as you would like.
Beat the egg whites, Cream of Tartar, and salt (I used a hand mixer but a stand mixer would be better) at a high speed until foamy.
Then, add the sugar, 1 tbsp at a time, to the mixture while continuing to beat the egg white mixture at a high speed.
Continue beating the eggs until stiff peaks form. Then add the extracts and beat until blended.
After it's all mixed, fold in the peppermint candies.
Drop batter onto 2 baking sheets with parchment or a Silpat. I put the batter into a zip top bag and piped it onto the baking sheet. They didn't look super pretty, but I think they look better than if I free-formed them.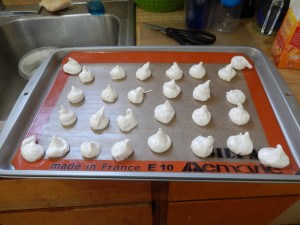 Bake at 250 for about 2 hours or until the meringues are dry and can be removed from the baking sheet without sticking to your fingers).
Turn off over and leave door partially open while allowing meringues to cool for 1 hour.
Remove from oven and let meringues to completely cool on wire racks.
Store meringues in a zip top bag or container to keep dry (moisture is meringues' enemy).
This should make about 40 cookies.
It's not too tough to make these. Just make sure that everything you use does not have any oil or egg yolk on it. That's probably where I went wrong. I'm hoping these cookies are a big hit tonight at the party! And if you make these or some other type of meringues, let me know! I'm looking for some fun variations of this since I know how to make them now!