I've been going to Queen Bee for waxing for over a year now. While their prices aren't the cheapest in town, they are reasonable.
Every so often, they have special deals. Sometimes it's new employees who need people to work on while they are training for the job (but they are all licensed estheticians already). I've thought about trying one of those deals out before, but then it also makes your wax longer. Sometimes, I just need to get in and out quickly.
And sometimes, they need model to various reasons.
Recently on social media, Queen Bee mentioned that they needed some waxing models for a training video that they were working on. This isn't something that is going to be posted publicly, but just for their own use. They needed a bunch of different types of waxing to be done in the video, and I noticed that they needed someone to come in for an eyebrow wax!
I typically go to Benefit for my eyebrow waxing, but this was an opportunity for not only a free eyebrow wax but a gift card to Queen Bee for helping out! I was totally down for that.
They needed the waxing models to come in this past Monday and since that is my day off, that worked out very well. I was able to fit it in between a doctor appointment I had in the morning and my workout class that afternoon.
Every time I come to Queen Bee, I just love how cute the place is! It so much nicer than going to a cheap nail salon for waxing.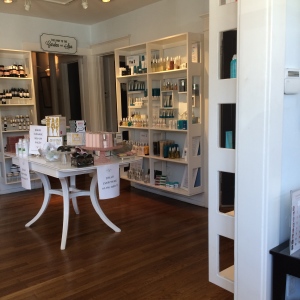 I checked in and waited for everyone to be ready for me. They had it all set up in one of the waxing rooms with 3 different cameras there to capture all the action.
I'm definitely not camera-shy, but it was a little weird to be in front of a camera without any makeup on and having them film an eyebrow wax. But at least I'm very used to having my eyebrows done. I've been getting them waxed since I was 14.
It wasn't the quickest wax because there was a lot of talking about what they were doing, but it didn't take forever either. Maybe about 25 minutes.
I totally forgot to get a before picture (and trust me, you don't want to see how bad my brows were), but I did get an after one!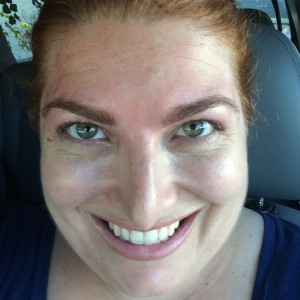 Nice clean eyebrows that aren't too skinny! Exactly what I like! I'm a little red from the waxing, but that always happens to me. That's one of the reasons I like going to Benefit, they put makeup on your face after waxing so you can go out and do other things and not look freshly waxed.
But since I was just going to work out right after this, I didn't care how I looked. I really think that Queen Bee did an awesome job with my wax. I still can't believe that I was going to a cheap nail salon for years and putting up with how bad my skin got after waxing. I have totally learned that paying a little extra is worth it, especially when it comes to your skin.
Thank you Queen Bee for my eyebrow wax and I can't wait to get to use my gift card the next time I'm in for waxing!