After all the excitement on Monday, I've pretty much spent the rest of my week making up for everything I didn't do because I was focused on both the live recording and after party.
Obviously, the first thing I had to make up were work hours. Fortunately, my box office job doesn't have Monday hours so I didn't have to worry about that. But with my research job, I had to make sure to work a few extra hours to make up for not doing anything Monday (or over the weekend).
The research job is still trucking along. Things are a bit slower than I'd like, but my boss is totally understanding. I think that once I get all the initial work done and it's more about maintaining the data I've collected, things will be better. Now it just seems like a race against time.
Even though I got through all the festivities of Monday, the podcast team still needed to meet up on Tuesday. We met at Lyfe Kitchen and I think it's pretty obvious that we all were pretty hungry going into the meeting.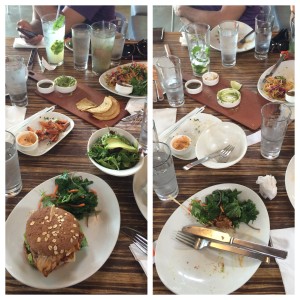 Some of the meeting was a debriefing of how things went the night before and what we could improve on for the next event. I think most of us were on the same page about things, but I think that I also kept some of the issues I encountered too quiet as nobody else on the team knew about them. In a way that is good because I was the only person stressed out. But I'm glad I got to share them because we can make changes to prevent those issues from happening again.
We also discussed the 300th episode. Yes, it's about 2 years away. But I've got to top what we did for the 200th so I'm getting a head start. I can't share any of the ideas we've been discussing just yet. But if things go the way we want them to, in 2 years you will all want to come join us for our 300th episode!
I also had a friend of mine ask me to write them a letter of recommendation for Women In Film! That was such an honor. I took my time and wrote several drafts before sending it to her to submit with her application. I've asked for letters of recommendations plenty of times. But I never knew until know how stressful it could be! Maybe I'm just so stressed because I know how great Women In Film is and I want all my amazing friends to be a part of it as well. I've got my fingers crossed that she gets in!
Finally, I just had to catch up on working on my happiness checklist. I've been neglecting some of the things that make me happy lately (although other things have been happening almost daily). I see my therapist in just over 2 weeks and I'm planning on bringing my checklist for him to see. I want him to see that I made a real effort in the homework he gave to me to do for 3 months. I really am taking this seriously and if I want to get my dosage of Vyvanse adjusted (which I'm pretty sure it needs to be), I have to work on the mental aspect of my recovery and not just getting the "quick fix" medication.
That's a lot of work to get done on an already crazy week! I'm glad that this weekend is a holiday weekend and I get tomorrow off from my box office job!