I mentioned yesterday how my mentoring circle is really pushing me to better myself in my acting career. Now that I finally have a second day job with regular hours, I'm finally able to save up for acting classes.
I've been wanting to take improv classes for a while and each level of classes at the school I want to go to is $400. I've been saving up and had about $100 saved, but then another great opportunity came my way.
A friend of mine told me about a new online class called MasterClass. And one of the classes taught online is a course on acting taught by Dustin Hoffman.
The idea of MasterClass is that it is a video class taught by professionals in that particular industry. Besides the videos there are homework assignments, workbooks, and online communities to help you in the class.
I checked it out a bit and read some reviews from people who already started (nobody has completed the class yet since it only went live last week) and decided that this would be something worthwhile to spend my money on. The classes cost $90 for the entire thing and you will have lifetime access to it. So I can go through each video as many times as I would like to. There are 24 videos and it's designed to be a 6 week course.
As soon as I purchased it, I downloaded and printed my workbook and watched the first video.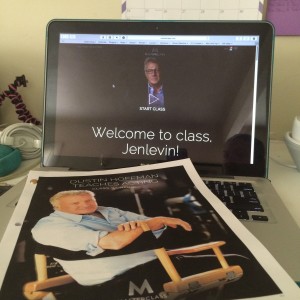 I'll admit that I've only gotten through the first video, but I'm already loving it! The first video was more of an introduction type of video and the next few are watching Dustin Hoffman instructing 2 actors in a class setting. And after that are classes on script work.
But I have gone through the workbook and have looked at the homework and other assignments. Some of the assignments are watching movies and taking notes and some are working on scripts with friends or other MasterClass participants over Skype.
You can comment below any of the video classes and interact with other students and there is also a Facebook community for those taking the class. While I haven't gotten to the part of the class where I need to work with other students, I love that the community is there and that the work can be done either in person or Skype.
Right now, I have a few friends who are also doing the MasterClass program, but we aren't doing things at the same pace. I'd love to do the 4 classes a week like it's laid out to be, but I'm not sure if that's possible. But I'm going to go through them at my own pace and when I complete it I complete it.
While this did deplete my savings for the improv class that I want to take, it went to something that I feel is worthwhile and can almost hold me over until I have the money saved for the improv class. With having 2 regular jobs now (and hopefully getting some occasional babysitting work), I'm hoping to have the $400 saved before my birthday. And if not, I will be using birthday money to pay for the class.
I like that I have a plan and a new class in my life. It really makes me feel like I'm taking steps to better my acting career and not just waiting around for things to happen. Even though I wasn't waiting around, now it feels like there is action and progress being made. And that alone is motivating me to do more and more.