So here's the story behind my exhaustion on Sunday when I wrote my last blog post.
The graveyard shift coding job has pretty much moved to daytimes only. I've worked a couple of projects, but I'm only averages maybe 2 or 3 hours a week with daytime work from home. That should become more hours in the future, but to supplement that (and my income), I'm making myself available for graveyard shifts on the weekends.
I can't do the weekdays because I'm working my new box office job, but if I'm available on Saturday or Sunday I let the company know that if they need someone to work, I can help out.
I found out that I was going to work an evening shift this past Saturday. That was fine with me.
I woke up that morning at 7am (my box office job starts at 8am on Saturdays) and worked my first job. Then I did some errands before heading into the coding job at 7pm.
Since the start time was 7pm (instead of 11pm like it usually is) I figured I wouldn't be there too late. Even some of my co-workers agreed that we should be able to get the work done pretty quickly.
And the first part did move quickly. As a team, we finished it in about 2 hours. That's not bad at all. Then our bosses had been told that there were a couple of other surveys that we could tack on to the end of our shift to get done and help out the other employees.
I guess there was some miscommunication between some higher-ups and my bosses because these extra surveys we worked on were not something to just "tack on" to our day (or evening as it was). There were well over 1000 surveys (usually we have about 300 or 400) and there were multiple parts to each one that needed to be worked on.
Even though as a team we worked as quickly as possible, these surveys never seemed to end! At 2am I was starting to get exhausted and tried to take mini-breaks to keep myself from going crazy. At 4am I started to feel nauseous. Probably because my last meal was at 6pm and I had a light dinner (I thought I would make it to a friend's party that evening and wanted to save my calories). Finally at 6am after 11 hours of working, I was told that my part of the work was done. The sun was coming up as I was driving home.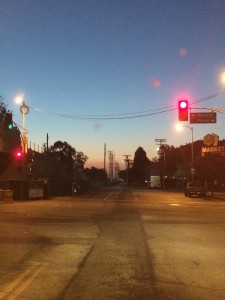 I was so tired from being up for almost 24 hours straight. And as much as I wanted to go home and go sleep for a long time, that wasn't my reality. I had to be up at 8am Sunday morning for some things and appointments that I had scheduled before knowing I was working graveyard the night before (and I did cancel since I figured I wouldn't be working too late).
So I had the option on getting an hour or two of sleep or not sleeping at all. I chose to not sleep at all because I was scared of not hearing my alarm to get up at 8am. So I just hung out and read until it was time for me to start my day.
Then Sunday evening, before I had time to write my post for Monday, my job emailed me and let me know that they needed me to work from home during the evening. I had plans to go to bed as early as possible, but I needed to take the job. So I worked as quickly as possible, wrote my blog post, and started to get ready for bed.
Then my boss contacted me again to ask me to work more. I was so tired that I could barely see straight. So I finally had to tell them that I had been up for almost 40 hours straight and I just needed to go to bed. They totally understood. Most people who work those graveyard shifts sleep in the next day until 2 or 3pm. That's just not an option for me.
I'm still shocked that I made it 40 hours without sleeping. The last time I pulled an all-nighter was in college when I was preparing for my art history final (I didn't do that well because I was too tired). I'm not planning on pulling all-nighters on a regular basis. If I go in for graveyard shift work and I know I have an early morning the next day, I'm going to let my bosses know at the beginning of the shift that I have to leave by a certain time (you can only do that at the beginning of the shift, not the middle). I need to look out for me, even though all the overtime pay is going to be really nice on my next paycheck.
But I made it through, and now I'm going to spend my week catching up on the sleep I missed!