My parents have been in San Diego again recently helping my grandma. They drove back yesterday. And since my house is on the way, they stopped by.
They usually don't stop when they are doing that drive. Their preferred method of driving down goes around LA, so it would be tough for them to make the detour. But this time, there was a reason they drove through LA.
First of all, my mom still had the wine that I bought in Napa. I couldn't fly it back with me (since I only had a carry on), so the plan was always for my mom to drive it down for me. I was originally going to try to meet them in San Diego while there were down this time, but that didn't quite work out.
Also, I had gotten my dad his Hanukkah present insanely early this year. I knew exactly what I wanted to get him in January, so I didn't think I would want to wait until Thanksgiving to give it to him. And I knew that he would want to use it, so their detour to my house was also for my dad to get a gift.
And as always, I had a few things I wanted to fix in my house and my dad is a pretty awesome handyman.
So yesterday during my work shift, my parents (and dog) came over for about 45 minutes. Fortunately, my job was pretty quiet while they were here so I could focus on them.
The projects in my house were pretty simple. There was a drawer that was broken that needed a new screw and my toilet paper holder was falling out of the wall. Both of those things were done within minutes.
Then it was time for me to give my dad his Hanukkah present. I had been giving him hints for a while, but he had no idea that I got him a TRX Strap system! My dad had used TRX straps when he worked out with me at Orangetheory before, but the gym that my parents belong to don't have straps that can be used without an appointment with a personal trainer. So now he has his own set of straps that he can use at the house (my mom has already said that she wants to use them too).
But one of the coolest things was something my parents brought me.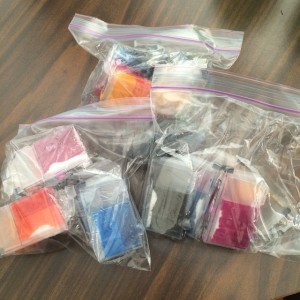 They brought me ink to recycle! As I mentioned before, I use the money I get from recycling ink to help pay for my Disneyland pass! This will definitely help me when I renew my pass next year. And I'm sure I'll get more ink from my parents over the year as well (my mom just saves them all for me).
While this visit was only 45 minutes, we really did get a lot done. And since I had just seen my parents a few weeks ago, there wasn't too much to catch up on (plus, I talk to my mom pretty much every day on the phone). I'll probably see them again in a few weeks when they come back down to San Diego too.
Even though this visit was super quick, I'm so glad that my parents were able to stop by. Any distractions during my work day are appreciated and this was a really nice distraction.
Comments
comments