On Sunday, I was car-less. It's not the end of the world, but I already had a bunch of plans for the day and I wanted to make sure that they could all still happen.
Fortunately, it all worked out for me.
My plans were with my friend (and neighbor) Amber. We were going to go see "Dawn Of The Planet Of The Apes" at the DGA followed by burgers at The Counter (which is conveniently across the street from the DGA). I originally was going to drive, but since I didn't have a car, Amber volunteered to drive us around for our adventures for the day.
The only issue in our plan was on Saturday evening after I got my car towed back to my house, Amber let me know that her car was overheating as well! But since her car seemed to be able to cool down easily, we figured we could be ok driving around.
First stop was the DGA. I've been there plenty, but this was Amber's first time seeing a movie there. It's pretty amazing and I love seeing my friends' reactions when they go for the first time. It so pretty inside and all the audience members are so respectful (I'm spoiled now and find it hard to see movies at regular movie theaters without getting annoyed by audience members talking or texting during the movie).
My quick review of "Dawn Of The Planet Of The Apes" was that it was pretty great! I really enjoyed the first movie and I got really excited to see the next movie after seeing the 3 short films that were created that are supposed to take place in the 10 years between the films.
My only issue with the movie was how the female characters were used. Both ape and human female characters seemed to be filler and didn't have much of anything to do. That's just sad.
After the movie we headed across the street to get our burgers. I love The Counter. I pretty much get the same thing every time.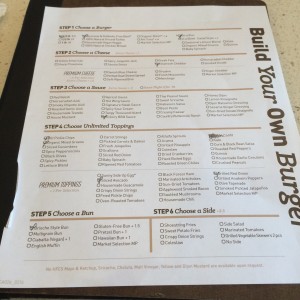 And I did figure out how to make this burger part of my day without going over my calories for the day. So even though I consider this a cheat meal, it still fit nicely into my day. And yes, it was super delicious.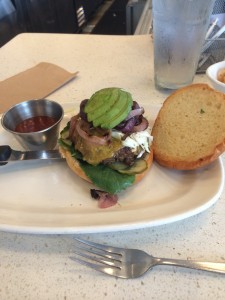 After eating, Amber and I headed on a little LA adventure. Or at least, we attempted one.
We were going to head up to the Griffith Observatory because Amber has never been there. We headed up the road at Griffith Park when Amber's car started to overheat again. Since the entire way up to the observatory is uphill, we agreed that it wasn't worth trying to get her car up there (she found out afterward that the issue with her car was it was low on coolant, so it wasn't a hard fix).
After our failed attempt to go to the observatory, we headed back. Amber was going to be in a music video that evening and she needed time to get ready. And I was going to spend the rest of my day cleaning my house and doing laundry (what else do you do when you can't get around town?).
Considering how tough my Saturday was, this was the perfect Sunday. I got my car to the shop (and found out that the fix wouldn't be too expensive), saw and awesome movie, and went out for a fun lunch. It really helped get me back into a positive mindset.
And I really needed that because Monday would be another day that would challenge me in practicing gratitude. But that post will have to wait until tomorrow.